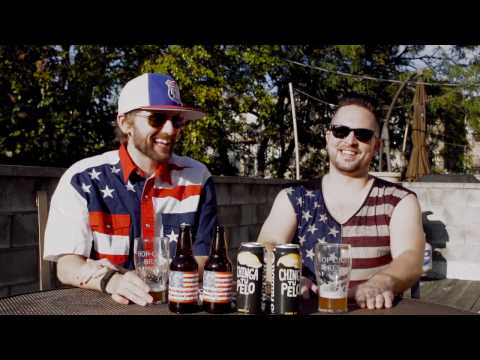 Welcome to the Hop Cast, where Brad Chmielewski and Ken Hunnemeder share their love of craft beer with the world.
On episode 286 of the Hop Cast, Brad Chmielewski and Ken Hunnemeder are getting into the election spirit by… drinking. Both of these beers have a political or American theme to them so it made for a perfect combination. First up the guys open 5 Rabbit Cerveceria's Chinga Tu Pelo, a 4.8% ABV American Blonde Ale. "Chinga Tu Pelo" which translates to "F**k Your Hair," features a can with Donald Trump's signature blonde hairstyle. This beer is solid, nothing fancy and nothing that you'll find too objectionable. Following up the Blonde Ale, the guys move onto the Prairie 'Merica from Prairie Artisan Ales. 'Merica is a single malt, single hop Farmhouse Ale coming in at 7.5% ABV.
Cheers & thanks for watching the Hop Cast!
Having issues listening to the video? Try the Quicktime (1.57 GB) or subscribe to the podcast on iTunes or Stitcher.